After the success of our March frog survey and botanical drawing class, we ran another round. As the weather was a bit dubious, the kind owners of the Brown Hill Pub let us sit out on the back balcony to conduct the botanic drawing class from where we could overlook the vegetation and still have great natural light.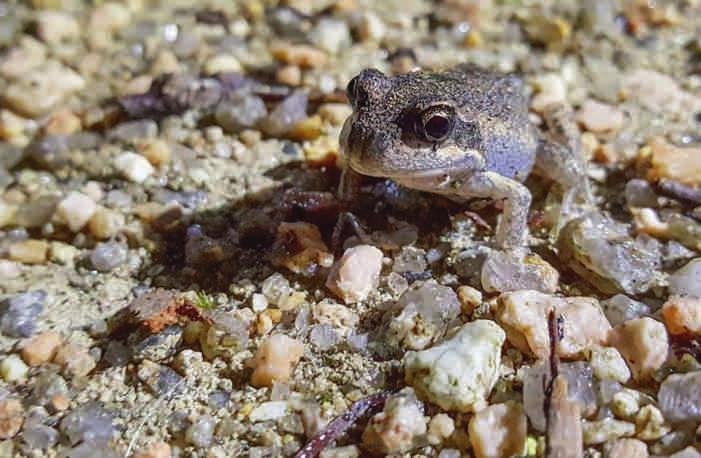 As the drizzle continued into the evening, we got more excited as it was shaping up to be perfect frog- finding conditions. We were joined by local herpetologist (frog expert) Ray Radford, who has been studying frogs for many decades. He enlightened us with a small portion of his knowledge. We then headed down for a walk around the Nerrina wetlands, where we heard a cacophony of frogs, including the autumn-breeding and not-so-commonly-heard Victorian Smooth Froglet. Then the true magic began as we started spotting frogs hopping across the pathways and along the vegetation. Everyone excitedly turned on their torches and there was a lot of, "Over here, check this out!" being called out. The frogs really put on a great show and everyone went home a little wet but with big smiles on their faces. The following Sunday, we started at the other end of the day to search for a different variety of creatures in our Brunch with Brown Hill Birds event. A group of 20 people, including some Birdlife Australia enthusiasts, braved the early Sunday morning chill to enjoy a walk along the Yarrowee River and through Ditchfield Reserve to enjoy the songs, colours and flight patterns of 22 species of local birds. There was particular excitement at the sighting of the Flame Robin with its striking red breast. A big thanks to the Birdlife Australia Bird spotting at Ditchfield Reserve 12 volunteers for their time on the day. We finished the morning off with a picnic brunch over discussions of all our great sightings.
Jane Bevelander, Yarrowee-Leigh Catchment Authority and Yarrowee-Leigh Catchment Group
First published in Edition 7 of the Brown Hill Newsletter, June 2017.