October 2019
Learn to Swim bookings will open on 1 November and close on 29 November.
February 2019
Thank goodness we still have it! Twelve years ago, the City of Ballarat considered closing our local pool after it hadn't operated for a couple of summers. What a loss that would have been!
This exceptionally hot January, with a record for hot dry days, reinforces why the Brown Hill Progress Association has stuck at the job of keeping the pool open.
So far this season, we have had over 7000 people through the gate. Our lifeguard team has been very busy keeping an eye on activities in the very hot conditions.
More than 80 children took part in the 'Learn to Swim' program, which was free-of-charge for those with a family membership and only $15 per child per week for those without a membership. The Brown Hill Progress Association was able to offer this important program at such great prices due to the generous sponsorship of $2000 from the Brown Hill Uniting Church.
We would like to acknowledge the amazing volunteer contribution of our committee member Rachel Zuidland, who organised and coordinated the two-week program. Thanks also to volunteers John, Vince and Trent who assisted Rachel by providing free hot chocolates, biscuits and sausages in bread on cold days and icy-poles on hot days, to keep the children full of energy and enthusiasm!
We also enjoyed our annual pool party on the Australia Day public holiday and the pool is pumping on Wednesday evenings at 6.00 pm with Flo leading Aquatic Zumba (only $3).
This season, we have supported schools, youth groups and girl guides with opportunities to swim.
We would like to thank the City of Ballarat for their investment in the pool before this summer started, with a new main pump and sand filter to keep the water clean. The Council team also repaired the torn shade sail, painted the seating and recently replaced the old, rusty main gate.
Thanks also to another Brown Hill Progress Association member, Peter Fisher, for his dedication to maintaining the pool pump and working with the lifeguard team to regularly check the water quality. Another great volunteer!
There is still plenty of summer to go, so use those Pool Season Passes well. Thanks for supporting our swimming hole!
Brendan Stevens Secretary, Brown Hill Progress Association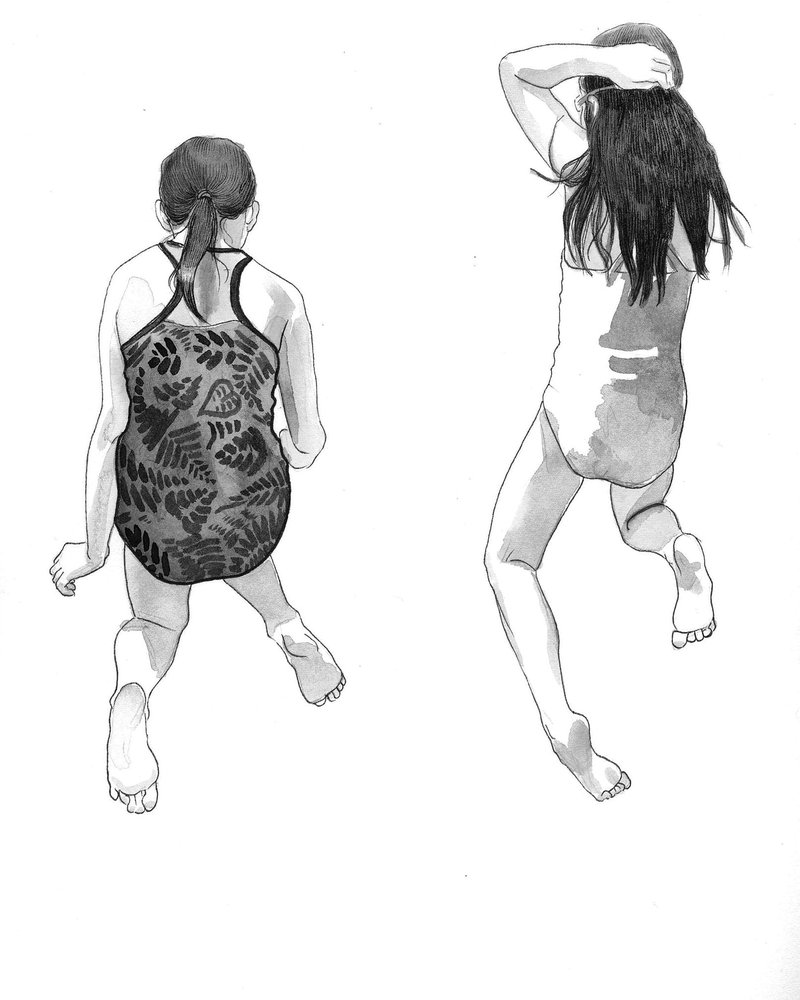 'Jump' by local Ballarat artist and Brown Hill Pool fan, Lily Mae Martin. Lily posted this beautiful drawing on the 'Brown Hill Community Pool' Facebook page and wrote: "Hello! Just wanted to say we love the Brown Hill Pool. This is a little drawing I did of my daughter and her friend having a splash there a couple of weeks ago." Thanks for letting us share Lily Mae! See: https://lilymaemartin.com.
December 2018
On Monday 28 January, the Brown Hill Progress Association will be running the annual Australia Day pool party at the Brown Hill Pool. Depending on the weather, the pool is scheduled to open at 12.00 noon. There will be a raffle, music and lots of fun and games. For more information join the 'Brown Hill Community Pool' Facebook group.
October 2018
Call for lifeguards
Wanted: Lifeguards for the summer season (1 December 2018 - 10 March 2019) for the Brown Hill Community Pool.
Applicants must have the appropriate current qualifications:
Level 2 First Aid with CPR
Certificate - Lifeguard Outdoor Swimming Pool (Royal Life Saving or equivalent)
Working with Children Check
Please send applications to Brendan Stevens, Secretary of the Brown Hill Pool Committee of Management: bhpa@brownhill.vic.au
Applications close 31 October 2018.
2018 Working Bees
There will be a Working Bee at the pool every remaining Sunday in October (14, 21 and 28). We will start at 10.00 am. All welcome. Just turn up on the day!
Online Season Memberships
2018/19 season memberships for the Brown Hill Pool will be available to purchase from the Brown Hill Community Online Hub during November. See: brownhill.vic.au/swimming-pool/
Learn to Swim
From Monday 7 until Friday 18 January, the Brown Hill Progress Association will be running a 'Learn to Swim' Program at the pool. Bookings are now open!
This program is for children four years of age and older and is generously sponsored by the Brown Hill Uniting Church. The only cost will be a $15 per child per week charge, to be paid upon booking. Families with a 2018/19 pool season membership will have all costs of the 'Learn to Swim' program included.
All bookings will be made through the Brown Hill Community Online Hub. Please note that bookings will not be available through the VicSwim website this year.
Questions? Please email: pool@brownhill.vic.au.
January 2018
In December, there were 1610 visits to the Brown Hill Community Pool (403 adults and 1207 children). January figures are already looking strong! We will report the numbers at the end of the month.

The VicSWIM program was lots of fun for the families involved. Thanks to the Brown Hill Uniting Church for funding each child for one week of lessons. Thanks also to volunteer Vince for being an excellent Milo Man!
Aquatic Zumba started on Monday 22 January, with 53 people getting splashy with it! Flo will be in the pool at 6.00 pm each Monday until the end of February. $2 entry per person (except season pass holders).

On Australia Day, the pool was flat out (until an enormous thunderstorm came in around 4.00 pm). Thanks to all of the local businesses that donated prizes for our raffle. Here are the results:
2018-19 Brown Hill Pool Pass (Brown Hill Progress Association), $130 - Jack S
Hamper of goodies donated by various groups, $40 - Lily M
Grounded Pleasures pack (exquisite drinking chocolate), $20 - Winnie

AFL Store voucher, $20 - The Kales family
Early Childhood Resources set, $20 - The Zuidland family
The Littlest J, two pairs of Australia Earrings. $20 - Millie
Glenn and Kerryn from Bakers Delight Bakery Hill, donated all of the bread for the BBQ, in addition to product vouchers valued at around $5 each, which were also handed out on the day.

December 2017
On our official opening weekend (December 2 and 3), I looked out of the window and thought, "Please come back Summer! Here we are, all ready for our opening and we have a top of 15 degrees and it is cold and wet." After I turned on the heater, I thought, "Nothing we can do and the heat will come back. It always does." And it has!
On Saturday 10 December, we opened the pool for the 2017/18 season. Over the opening weekend, approximately 40 people visited the pool.
Here is the latest pool news:
The kiosk has been cleaned and stocked and is ready to go thanks to Rachel, our new volunteer kiosk manager, and Liz, our former volunteer kiosk manager. They had great help from a great team of lolly baggers.
The pool and water are looking magnificent! A big thanks to the team of pool cleaners, painters and repairers, especially Peter, our volunteer pool-plant maintenance guru, who fires up the pumps every year and fine-tunes the chemicals prior to opening.
A new team of lifeguards is in place. Thanks to Jason and Brendan for conducting interviews and finalising the selection of team members.
The lifeguard team includes some familiar and some new faces. Amongst those who have previously been lifeguards at Brown Hill are Kate, our Manager, Jacqui, Tahlia and Sam. The new kids on the block are Josh (x2), Jai, Liam and Millie. Welcome!
Please make the job easy for these guys and girls by good behaviour in and out of the water, tidying up after yourselves and giving them a hand in the kiosk if they need it.
Lifeguards will keep the community updated on daily pool opening and closing times through the 'Brown Hill Community Pool' Facebook page.

Thanks to the City of Ballarat for mowing the grounds.
Most of the pre-season preparation is done by a fantastic team of volunteers, so a big, big thank you to all.
This season we again have our VIC SWIM Summer Kidz Program in the mornings for two weeks starting on Monday 8 January. Places have booked out. Thanks to the Brown Hill Uniting Church and the Brown Hill Progress Association for the financial support, allowing local children over four years old to access one week of the program free of charge (valued at $30 per child).
The Australia Day Party is on again from 12 midday on Friday 26 January, with kids' games, a free BBQ and pancakes and a lucky raffle.

Hopefully, Flo will be back in late January and early February with Aqua Zumba in the evenings. Keep an eye on the 'Brown Hill Community Pool' Facebook pages and brownhill.vic.au for updates.
It looks like the Eureka Pool is going to be out of action for a while, so our quiet little resort may be a bit busier than usual this season! Please respect the staff, volunteers and property.
Remember to protect yourself and your kids. Slip, Slop, Slap over the Summer and have a super time at the pool!
The inaugural 'Toys at the pool' day
See the 'Toys at the pool' day page.

Defibrillator moves to the pool
The Brown Hill Progress Association's defibrillator has been moved back to the pool for the Summer. There is no longer a defibrillator in the Brown Hill Public Hall.
First published in Edition 10 of the Brown Hill Community Newsletter