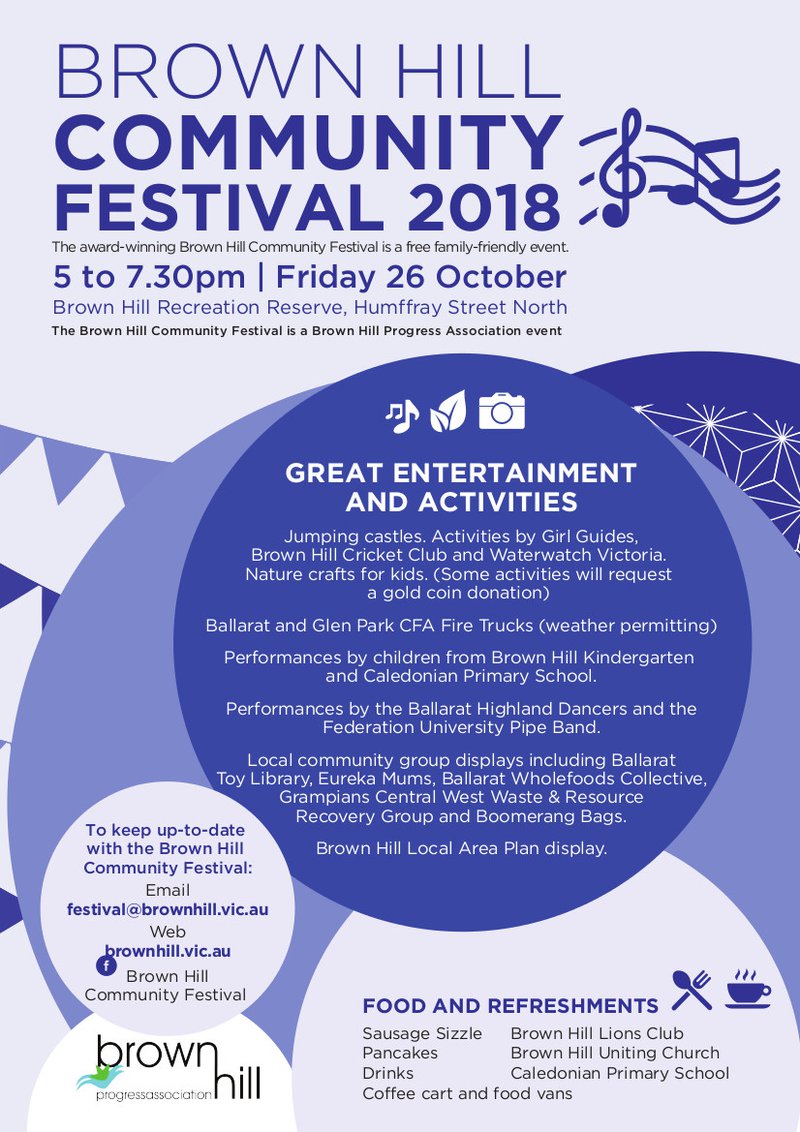 The 2018 Brown Hill Community Festival will be held from 5.00 pm - 7.30pm on Friday 26 October 2018 at the Brown Hill Recreation Reserve, 377 Humffray Street North. Stay up to date by following the 'Brown Hill Community Festival' on Facebook.
Local community groups will come together to offer a sausage sizzle, pancakes and cold drinks, each for a gold coin donation. Entertainment will include performances from students who attend Brown Hill Kindergarten and Caledonian Primary School. Family friendly activities such as jumping castles and nature craft will put smiles on lots of faces.
So save the date to make sure you can join our community for this award-winning event, celebrating all that we love about Brown Hill.
2017 Festival
The 2017 Brown Hill Community Festival on Friday 27 October 2017, was a great success. Here is a link to the Festival Report.
You can download the 2017 Festival Poster (PDF 378 kB).
Hear a VoiceFM interview about the Festival on Monday 23 October with Sarah Greenwood-Smith from the Festival Committee (18 minutes).
2016 Festival
The inaugural Brown Hill Community Festival was held on Friday 28 October 2016 at the Brown Hill Recreation Reserve, 377 Humffray Street North, Brown Hill. Images are available on the Brown Hill Community Festival Facebook page.
'My Brown Hill' image competition
Find out more on the 'My Brown Hill' Image Competition page.
Contact
Email: festival@brownhill.vic.au