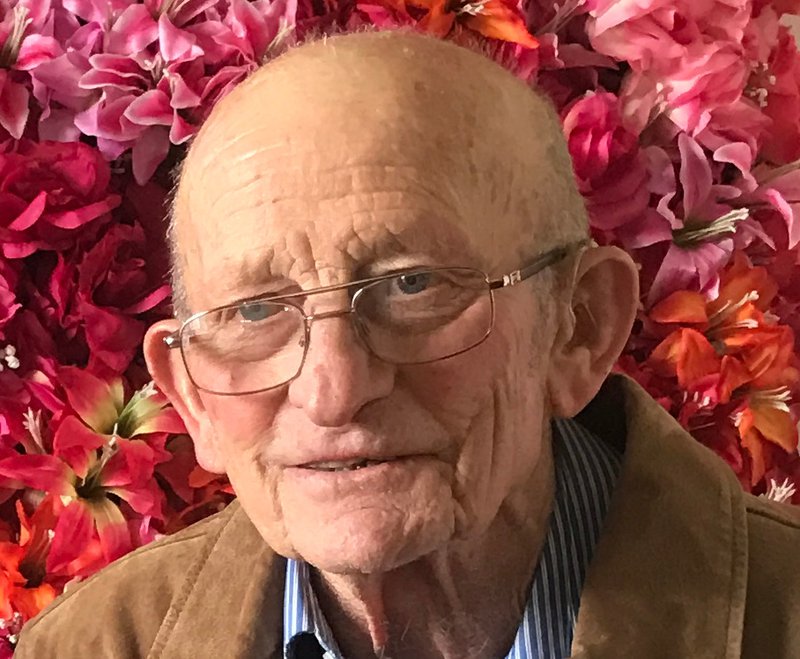 On an extremely hot Friday, 4 January 2019, the Brown Hill Uniting Church was at capacity as around 200 people from Brown Hill and far beyond gathered to celebrate the life of Ian Westerland.
What a gentleman he was.
Ian was born on 11 December 1932 at Minyip and grew up on a farm "Croft" approximately two kilometres west from Minyip. At 13 he left school to help run the family farm due to his father's Ill health. He continued to run the family farm, as well as share- farming a neighbouring property, into his adulthood and also developed a significant livestock (sheep) operation.
In 1960, Ian purchased a property to the south of the family farm, operating, in total, about 2,000 acres of land, through until he sold the farm in 2006. Ian always loved living on the land and being outdoors, loved exploring the region and beyond and spending time with his family.
In July 1962, Ian married Jean Orr. Their two children are Elizabeth and Derek and six grandchildren are Claire, Rebecca, Caitlin, Luke, James and Jack.
Ian spent his entire working life on the farm then retired with Jean to Hemsley Park in Ballarat. He was very community-minded and over the years was involved in many community and rural organisations.
Ian was also a prolific reader from a very young age (made up for a curtailed education) and read numerous newspapers, journals, history and factual publications. He believed that education wasn't just obtained at school but also through life.
Ian lived a full life and was known for not tolerating fools. But he was always a gentleman.
In his latter years, he joined the Brown Hill Progress Association and the fight to save the Brown Hill Pool and attend working bees.
Ian would be described as a dedicated, loving, caring family man who spent his life focussed on making things better for his family and his community. He stayed interested and involved to the end and enjoyed spending time with his grandchildren.
When Ian was admitted to hospital no one expected that this was his last journey. He passed away with his family around him.
Poem for Pop
Shearing is complete.
The sheep are in the paddock.
The calves have been weaned.
The steers have been sold.
Harvest is over.
The grain shed is full.
The tarp is on the truck.
The tractor is in the shed.
The front gate is closed.
The dogs have been fed.
Take off your boots Pop.
It's time to rest your weary head.
For a life well lived.
Your job is done now.
Goodbye Pop we love you.
Derek Westerland, Ian's son
Jack's tribute to Pop
Read at Ian Westerland's funeral on 4 January 2019 by his grandson Jack.
When I visited Pop, he would always get out a special plastic cup for me and give me milk and mini-Oreo's. Pop would also get out toys from the garage for me to play with. They were like mega-duplo.
Many times Pop would go for walks with Dad and me around Hemsley Park to visit Pop's veggie garden, the lake and a muddy track around the back of the houses, which was fun.
I remember when we had visited Pop and Tupp at their house and were leaving, I would always say, "see you later, alligator" and he would say, "in a while, crocodile". Or the other way around.
When Dad told me that Pop was very sick and we were not sure how much longer he would live, I was very sad. Luckily, I got to see him again on Christmas Day and say goodbye. When dad went to visit Pop again on Boxing Day, I gave dad the cross I had made at school to give to him. Pop and Tupp loved it. Dad said that when the chaplin (Lance) came to visit Pop and read him his Liturgy, Pop held onto my cross and was comforted by it.
Today I want the cross to be placed on the coffin and be buried with Pop at the cemetery.
Eulogy
The harvest is over, the machinery is in the shed and Ian has got down from his tractor.
Ian was the 3rd son of Jack & Rita Westerland, born on 11th December 1932.
He had two older siblings, Peter, deceased 3 years ago, & Kenneth also deceased, aged 12 in 1943. Peter's wife Valma has made the journey to be here today along his three sons Greg, Richard and Anthony as well as Richards wife Linda. Judith is now the one surviving member of that family and generation.
The family grew up on a farm 2 miles from Minyip and as money was tight, both parents worked extremely hard to give us all the necessities of life. Modern conveniences were still on the horizon but that's how it was in the country at that time.
Ian was educated at Minyip Primary school and then at Warracknabeal High School. When it was too wet to ride their bikes to school, dad (Pop) would harness up the horse Molly in the buggy and we would drive her to Minyip. There were stables at the back of Rowans grocery shop and we'd unharness Molly, leave her with a bag of feed and walk along to school.
Ian was a bit of a tease at times, we used to walk about 400m to the Warrack road to catch the bus to Warracknabeal High school. On the way home he sometimes used to annoy / tease Judith by "tigging" her and run off saying "tug you last ". The Westerland's were not renowned for their speed (always last in the school races) so Judith was forever playing catch up.
Being the youngest in the family, when the boys played cricket, Judith was the one who had to 'fox' the balls. She didn't know why she kept doing it but was very young then. No wonder girls complain about their brothers.
Ian left school aged 13 to help his father on the farm due to back problems.
Ian assumed a lot of responsibility for a young lad but did it well. He did manage one time to smash his big toe when a 44-gallon drum he was moving off a trailer and fell on to his foot, imagine the pain of a heavy drum, with or without any fuel!
Some time in his teens Ian travelled to Melbourne with another friend and they were treated to see the show "Annie get your Gun" and then introduced to the star, Evie Hayes. He was thrilled to do that.
When Ian's parents were away at a bowls tournament, Judith and he looked after the farm. There were sheep dogs, but Judith also had a cocker spaniel and one day, the dogs played chasey with the chooks. Judith doesn't recall how many they dispatched but Ian had to hurriedly bury the evidence of their escapade before Dad got back. There was never any comment
Ian's sporting activities included tennis and golf but not a lot of that. Ian and his siblings all swam in the local pool which at that time had been converted from a council dam, and it was behind the school and it was also where they all learnt to swim. Another pass time they also enjoyed was yabbying in the dams before there were Opera House nets or the like, just a lump of meat (rabbit, shank etc, the smellier the better) tied on the end of the long piece of twine and gradually drawn in and the yabbies that followed it were scooped up with a small wire net.
Family holidays were infrequent, but Rita (Nanny) took all the children in the train to Geelong once and they stayed at a boarding house quite near Eastern beach. Such a contrast to the flat plains around Minyip, there were green sloping lawns and an ice cream shop nearby!
Ian drove with Judith to Perth in 1961. At this stage the roads weren't sealed, accommodation was minimal and very basic. The breakfast at Cocklebiddy having a bit of the local grit served with it. Ian stayed in WA for about a week and had a look around the farming area of GinGin north of Perth before returning home on the train. Approximately 9 months later Judith returned to Melbourne and on walking down Swanston Street heard this familiar and dog whistle from the other side of the street. It couldn't have been anyone else, it was Ian's unique identity almost.
When Ian made friends, he made them for life. We thought it would be worthwhile to mention a few but this list is by no means an exhaustive. Some of the friends were and were from:
Highschool - Ian Broomby and Bernard Gilligan. Bernard has now passed and Ian Broomby was unable to attend today.
PFA - the Heard Bros – Harold, Andrew and Spence.
VFF Colleagues - Frank Drum (recently deceased) and Ian Crafter.
Cousin and Best Man at his wedding Max and later on Max's sons Glen and Mark.
Fruit Carting Buddy from the early1970's Keith Kirby (believe it or not Ian and Keith spoke to each other most weeks for the next 40 + years). Keith was also unable to make it today.
Neighbors and later colleagues in grain growing, marketing of grain and provision of cattle feed to the Western District farmers – Ray and Dale Petering as well as Pat Breen from Beeac.
Church buddy Ralston Mackenzie and later his son, share farmer and later purchaser of some of the farm Craig.
The list goes on……
Ian didn't suffer fools gladly. But he was always a gentleman. He also had a very dry sense of humour and you had to know Ian well to appreciate it.
Ian and Jean were both members of the PFA so when Jean moved to Horsham to teach, she met Ian at a dance and they were engaged then later married on 14th July 1962. On their honeymoon they drove up the East Coast of Australia and holidayed on Long Island in the Queensland Whitsundays.
When Derek and his family were travelling to Queensland many years later in 2006 and advised Ian that they were going to drive back down along the coast of New South Wales to Sydney, Ian said to be careful as that coast road is very rough and quite dangerous – it was only 44 years since Ian had driven on it!
For the last six months prior to their wedding, Jean was working in Melbourne and Ian spoke of his trips to Melbourne in the old farm ute and how treacherous parts of the road were as at that time some of them weren't fully sealed. He still managed to do the trip in about 4 hours which was very good at that time!
Ian and Jean had 2 children, Elizabeth born in 1964 and Derek born later in 1967. He was a loving family man and a very proud father and grandfather.
In the early days of running the family farm (Croft) and Midgleys properties (The Grange and Emu), Ian would often need operate to the tractor for long periods of time straight after rain or for when the paddocks needed to be worked again. In order to complete the work with the small equipment available at the time he would drive the tractor for up to 18 hours a day and his brother Peter would then come and drive the tractor for the remaining 6 hours when he wasn't at work as a builder. The only protection the old tractor offered as there was no cabin was to hide behind the engine to keep warm, they would wear a dryzabone jacket and no earmuffs. No wonder they both had bad hearing!
Farming was always hard but 1951 was particularly wet and Ian walked back to the house one day to announce, "I've lost the tractor". Judith doesn't recall how long or how it was pulled out of the bog.
Ian purchased the farm "Mungara Plains" in 1960 just to the south of "croft" where he grew up. For many years he worked the 2 properties in addition to share farming the adjoining properties owned by the Midgleys until the Midgleys sold in 1981.
At the time the amount of land being operated by Ian was quite large and given the size of equipment available required long hours. This amount of work combined with Ian's livestock operation meant the employment of additional labour for support in the peak times.
Ian, he didn't have employees, they were all part of the family. There were many people that worked on the farm over the years with the most significant ones being:
Kevin Gove (also went to school with Ian)
Laurie Exell was a very stable presence on the farm fitting in working for Ian with his own farms demands. When Derek got home from school, Laurie would often have a story about some of the things Ian and he had done that day, some of them quite ambitious.
Roydy Exell started off as a neighbor and later after he left his farm and moved into Minyip he became a skilled bloke that was really handy at building and fixing things. Even in his later years when Roydy's eyesight was going he was still able to weld beautifully and fix most things. Derek's old go-cart that Roydy's son Michael had built in the mid 1970's was resurrected by Roydy when Ian's grand children came along and he even managed to donate the end of one of his fingers to the cause one day.
And then of course there was all the shearing teams!
The farm dogs were always an important part of Ian's life. When you run livestock and in particular sheep you cannot beat a good dog! For Ian though they were also great companions. He was devastated when he left the farm and wasn't able to take his beloved Bonnie with him.
The were many dogs and names over the years, some of them not so PC these days! There was Bonnie, Lucy, Biddy, Rusty, Darkey, Mork, Ben, Bob, George, Minnie, Steve, the list goes on.
Some of the dogs had very peculiar characteristics though. Darkey had a fierce temper and was known to have bitten the odd individual. One day Ian came home for lunch and there was a poor hapless salesman baled up between the house and the car by Darkey. The salesman had no idea what to do but there was no way Darkey was going to let him get back to his car.
Darkey also was scared of travelling in the back of the ute and always wanted to travel in the front of the ute on the passenger side. When he had been rolling in an old sheep's carcus or swimming in the dam, the smell in the front of the ute could be quite challenging.
Bob was Ian's father's (Johns) dog. After John had a stroke and Rita was moved into a small house in town, Bob moved in there with her, but every so often he would do the bolt and would be found back at the croft farm house even though no one lived there anymore. Bob also became famous as he would escort Nanny down the street when she went shopping and sit out the front of the shop whilst she was in there. Another escapade was he would go into the hospital to visit John and Ian had to be careful to make sure the nurse didn't know (you can be assured that they did but they pretended not to).
Minnie was only a short-term visitor as she originally belonged to Catherine's (Derek's wife) grandfather and came to Minyip when Derek and Catherine and their family went on holidays. Minnie went everywhere that Ian went and was very rarely far from "Bluey" his old Suzuki farm ute.
Ian purchased some of the Midgleys property when it was sold and then another neighbouring property from the Wallers "Corinya". A few years later he purchased some of Peucker's adjoining Property when they sold. It is very rare that a farmer is able to accumulate the amount of land Ian did when only purchasing adjoining properties.
He ultimately farmed approximately 2,000 acres very successfully until he sold the farm in the mid 2000's.
Prior to purchasing Mungara Ian always farmed sheep, initially wethers for wool production and then Merinos for wool and fat lambs. The farming of sheep was to be a constant through his life. His brother Peter built the sheering shed which still is on the property today.
Ian's father John always had cows for milking and continued to have them until he had a stroke in 1976. By this time Ian had gone into cattle production also, starting with purchasing of "poddy" calves at the market but later developing a herd of his beloved Murray Gray Cattle for beef production. He typically had 30 to 50 at anyone time and the Derek and Elizabeth were both given a Murray Grey heifer as an engagement present so that each year one of their progeny generated a nice little bonus for the family finances!
Ian was always very community minded and a great contributor, some of the organisations he was involved with were:
Minyip swimming pool committee
Presbyterian Fellowship Association (PFA)
Victorian Farmers Federation – President of Minyip Branch
Victorian Farmers Federation – Member of Grains Council
Member of Rupanyup / Minyip Community Bank Committee
Wimmera Tree Care
Dunmunckle Health Services – President of Committee through period of its restructure
Dunmunckle Health Services – Chairman of Board and Life Member
Brown Hill Progress Association
Founding Member of Residents of Retirement Villages Victoria.
Due to Ian's involvement in the various community health and farming groups there were numerous trips to Melbourne and Canberra to meet with Ministers and public Service advocating for the various causes.
Ian always loved a bargain, and this was no where better demonstrated than his love for a clearing sale. Apart from the very social aspect of a clearing sale Ian couldn't resist picking up the junk and mixed lots for a very cheap price. He also managed to amass a sizeable collection of old gates, wheels, other farming paraphernalia and even a couple of measuring chains in original condition.
Many a time he would arrive home with the back of the ute filled up with a "junk" lot that he picked up for a few dollars. More times than not there was a bargain or too to be found. He didn't ever find a use for the partially complete hang glider he picked up at one clearing sale though!
When Ian was preparing for his own clearing sale, he got the scrap metal man in to help clean up. More than 45 tonnes of steel were carted away and that was before the steel that was stacked up to sell such as railway line, railway sleepers, guard rail, steel beams, corrugated iron, etc.
As well as being a good and supportive friend, Ian was also a loyal client / customer. For years he purchased Allis Chalmers Tractors from Ellis Machinery in Horsham and also had them regularly serviced there too. Allis Chalmers didn't have the big reputation of a John Deere but for Ian it was not just price and quality, it was also the people he dealt with and a loyalty to support them.
When Ian purchased the New Holland Genesis tractor in the early 90"s this was his pride and joy. It was only the 9th to be delivered to Australia and the technology and level of comfort was far superior to anything previously available and that he had had before.
The same applied to cars, Ian had Valliant's and then Mitsubishis for many years, all purchased from Wilson Bolton in Horsham. One time he bought a light blue valiant ute and it was a shocker. The motor in it was shot and eventually he upgraded it for a better one, but prior to the upgrade he arrived home one night with the local policeman right behind him. The policeman claimed that Ian had been speeding on his way home from "seeing a man about a dog" (the pub). Ian couldn't believe it, a short drive in the ute soon convinced the policeman that he was wrong, and the vehicle was incapable of speeding.
Travelling with Ian was always an adventure, no trip was complete without taking a "short cut" a travelling back a different way to the one you took getting there. Jean can testify to the fact that on many an occasion a road would end up in someone's paddock without a gate nearby to exit.
Often trips were commenced late in the day as Ian had been busy finishing off a task, feeding the livestock, packing things up, etc. One evening between Hillston and Cobar Ian and Jean hit an echidna on the road, the quills punctured the front tyre in more than 20 places and the rear one much the same. Fortunately, on this trip a second spare had been packed but it certainly reduced Ian's preparedness to travel long distances at night in outback locations (for a little while anyway).
Ian treated any trip as an adventure and with clearing sales, field days and stock buying trips often to places 500km or more away, this was a great excuse for a drive. Derek had a number of days off school accompanying Ian on these trips which always seemed far more educational than school.
The Grampians played a special part in Dads life (being so close) and much family time was spent there over the years from day trips, staying at the Old CWA house there or in later years meeting up with the grandchildren. We have even found a photo of the remains of the bridge across Dairy Creek he helped built to provide access to the PFA camp site before Lake Bellfield was built.
Once Elizabeth and Derek left home for University and their careers in Civil Engineering, Ian and Jean started to travel more. Although Ian loved to explore it still was difficult for him to take breaks from the farm for long periods.
Some of the trips in Australia that Ian and Jean took were to The Flinders Ranges and Arkaroola, Cameron's Corner, Tibboburra, The Kidman Way through New South Wales, the Dinosaur Trail and Riversleigh in Queensland, Cape York by Boat, Stockman's Hall of Fame, East Coast of New South Wales, Wildflowers of Western Australia, Tasmania, Darwin to Broome by Road and so on. Jean will treasure these memories of their shared time together.
Ian also went on several overseas trips with a number of other farmers from Minyip seeking out new grain markets, inspecting how things were done elsewhere and meeting potential buyers. Ian travelled to the US, Canada, Malaysia, Singapore and China over 3 separate trips.
In 2011 Derek took Ian and Jean with him to a huge construction industry trade fare in the US (Las Vegas) and Ian enjoyed spending a couple of days accompanying Derek to Conexpo and then travelling in Arizona and Nevada including to the Hoover Dam, The Grand Canyon and the Valley of Fire.
In 1990 the family was expanded when Elizabeth married Bruce and Derek married Catherine, it was a busy year! In 1992 the first of Ian and Jeans grandchildren arrived (Claire) and over the coming years they were fortunate to have another 5 – Rebecca, Luke, Caitlin, James and finally in 2009 Jack. Ian enjoyed having grandchildren and whilst still on the farm they all got to experience things first hand especially with the Murray Grey Cattle and the Black Faced Sheep. The photos you will see later detail numerous experiences and time Ian spent with the grandchildren that he loved so dearly.
In 2006 Ian and Jean moved to Hemsley Park in Ballarat. They had been looking for somewhere to move to for a number of years and Ian was concerned about being an old lonely person in a place where he didn't know anyone. Hemsley Park meant that this wasn't the case and it didn't take Ian long to get involved in the Hemsley Community and the Brown Hill Progress Association.
As the numbers have grown in Hemsley Park it is not as easy to know everyone but due to Ian's friendly and sociable manner, there is no doubt that everyone in Hemsley Park knew him.
Ian expressed his pleasure in his last few days of the decision to move to Hemsley Park and that when he was gone Jean would be living in a safe and secure environment with people that cared for her and would look out for her as well as being in a modern home with a great garden. His only regret was that he hadn't cleaned up the shed before he passed. Jean said that in the previous couple of months he had ventured out there several times but on each occasion which she went to check on him he would be sitting in his old second hand office chair sound asleep.
Ian had always wanted to know where his Westerland ancestors had come from. The accepted story was that it was Sweden but no one was ever able to trace things any further back than that. It was only in recent weeks that Catherine his daughter in law had discovered that the family roots have shown up in Finland and Ian learnt this in his last few days.
Goodbye Ian.
Tribute for Dad
By Libby, Ian's daughter
Dad (or Pop as he was known to his grandchildren) had a curious mind and a thirst for new knowledge and better ways of doing things.
Our mail contained a never-ending stream of journals and newspapers that Dad subscribed too.
I remember as a child going with Dad on trips to Frankston and Werribee to talk to the State Agricultural Researchers and Scientists about new strains of wheat and barley, and about weed and pest control. I also remember his interest far exceeded mine and generally after a short time finding a quiet corner to read a book.
Dad encouraged me from an early age to help on the farm, milking the cows, move the sheep and cattle and to train the sheepdogs. I obviously wasn't so good at this because when it became clear to Dad that no amount of tuition was ever going to help me to whistle, he bought a shepherd's whistle from New Zealand. For anyone who hasn't seen one before, it is a circular metal plate folded in half with a hole in the middle. You place it on a curled tongue to whistle and it allows you to vary the pitch for the different directions to the sheep dogs.
Dad also taught me to drive as soon as I came close to reaching the peddles. More than a few times I bunny-hopped and sent Dad flying when he was on the back of the ute feeding the sheep. I remember after once such occasion he drew the locations of all the gears on the dashboard of the dodge ute,to help me understand where to put the lever for smoother gear changes.
Dad and Mum both strongly encouraged Derek and me in our studies and there were absolutely no excuses for missing a day of school. I remember one year when it was too wet to drive from the house to the road to catch the school bus, Dad put us in a trailer hooked up to the tractor. He then drove us through the sodden paddocks to the main road so we wouldn't miss school. Needless to say, there was a bit of mud splatter and spray from the tractor tyres. And our raincoats didn't quite protect all of our clothes.
When it was time to go to university, Dad took the day off work and drove me to Melbourne to enrol in my engineering course.I remember the day distinctly as I was overwhelmed by the size of the campus and had no idea where I was going to live. Dad spent a great deal of the day striking up conversations with strangers as we spent hours queued at each step in the enrolment process. At one stage Dad disappeared for a while. When he came back he had organised accommodation for me on campus at St Hilda's college. A few weeks later Mum and Dad helped me make the move to Melbourne and I had three wonderful years at St Hilda's. This was a wonderful gift because I met my future husband and soulmate, Bruce, I made some great friends, many of whom visited the farm over the years. And some of them are here today.
Dad was a wonderful and loving father who enjoyed spending time with his grandchildren in particular.
As most of you know, Dad went into hospital in early December and despite the best efforts of many medical staff, his health continued to decline. I am sure he hung on till Christmas, just so he could see all his grandchildren that one last time.
Dad's faith was an important part of his life and the way he and Mum lived. It gave him, and hence us, a great deal of comfort and peace in his final hours. I would like to thank Larry for giving Dad the opportunity to participate in a final bedside service. It was a very special and moving service. He was then ready to go, and so, we were ready to let him go.
Dad, I love you, and admire the way you lived. I will miss you so much.
Dad's Tribute
Derek, Ian's son
In the past week or so I have spoken to many of dad's friends, colleagues and people who knew him. What I have found is that there are several themes that have come through time and again:
An amazing man
A great friend
A true gentleman
A great intellect
A wise man
So many of the people that are here today I can remember being with Dad when he met up with them over the years. These are things that I already knew but to hear these words uttered by others has been an amazing experience. I mean, when else do you get to talk personally and emotionally about one of your parents with people outside of your own family.
My earliest memories involve dad. From the time I could walk I wanted to be with him and involved in whatever he was doing around the farm. I pretty much was his shadow until life and other adventures came my way. Being on the farm meant I was able to spend a maximum amount of time with dad when I wasn't at school or catching up with friends and this is what I always wanted to do.
I am sure with the current regulations in regard to Occupational Health and Safety I wouldn't have been able to do half of the things I did then. Apparently, I first used the steering wheel when I was only 2, I assume that I was sitting on dads' knee at the time. I remember one time when I was about 4, we were hand feeding the sheep in the swamp paddock off Coromby road, as usual dad would put the ute in first gear, leave me to steer it and hop on the back to tip off hay and grain for the sheep. This particular day I became very inquisitive and decided it was time to try out one of the pedals, the one I chose was the accelerator and dad went flying off the back of the ute as I took off across the paddock. Luckily, I had enough wits about me to release the accelerator again and he was able to catch up! From then on there was no stopping me, whenever there was a chance I would drive, be it a truck, tractor or ute.
I also remember when I was about 3 riding my trike to the tractor parked in the driveway at the front of the house. Dad was having lunch (sausages – its amazing what you can remember), I climbed up on the tractor and pulled on a rope hanging for the roof of the cabin. The tractor roared to life and lets just say I was quite panicked! I pedalled back to the house as quick as I could pretending nothing had happened. Luckily the tractor wasn't in gear.
Dad was also a good listener, which is pretty good thing given that when I was young I had quite a lot to say. We would often spend hours together on a drive to look at sheep, attend a clearing sale or field day talking about farming, life and all sorts of things.
One of my favourite activities was when we were moving sheep between paddocks or farms. Apart from crossing roads or going through gates we would sit in the ute behind the sheep and talk, there was certainly great value in having good dogs as it meant I didn't have to get out of the ute too often.
As soon as I possibly could I wanted to help with the major farming activities, be it driving the tractor, shearing or harvest. I started spending large stints of time driving the tractor when I was at primary school and I always like to think that the time I spent doing this enabled dad to have a break, get other jobs done or even reduce his need for additional farm labour. I completed my first full harvest when I was in form 1 at high school and from then on once it was harvest time, school was over. Looking back I realise how much trust Dad put in me for my age and all I can say is that he brought me up well. To be operating heavy machinery, performing maintenance and repairs (especially on the header) was a big responsibility, though I must say though that I loved every minute of that time.
Even when I finished university and came home from work in the Christmas Break, I enjoyed nothing better than to get back out on the header or carting grain to the silos.
I remember once going on a road trip with Dad to Pata in South Australia (near Loxton) to pick up this special field bin he had bought. It was great adventure as we drove for hours in the Mallee Country, took the Murrayville track and got to stay in a classic 50's Hotel Motel in Loxton with a breakfast menu! After picking up the field bin we headed off down the highway towing it with the ute, a 4.5m wide load with no wide load signs, no rotating flashing beacon, no extra width mirrors. I still don't know how we knew when anyone was behind us and wanted to pass, and I would not like to guess how any guide posts were given a whack as we drove along trying to stay from taking up the full width of the road.
Another time dad called me up on the radio and said could I come and pull the ute out as he was bogged. This seemed like a strange request as it was the middle of summer. When I arrived at Corinya with the tractor, here is dad standing on the bank of the dam looking forlorn and the top of the ute is visible in the middle of it. As it turned out dad had got caught on the bank of the channel which ran into the dam and in his wisdom he had put the sledge hammer on the accelerator and then commenced jumping on the tow bar to trying and give it some traction. Normally in this circumstance the wheels would grab, the ute would dislodge and promptly stall. Not this time, instead the ute went up the bank, hit a bump the steering wheel turned and the ute drove straight into the dam. To make matters worse as the sledge hammer was still on the accelerator, the ute continued on into the dam going further and further and sucking in more and more water. It took us 2 days and 4 oil changes to get it going again!
Once I met the love of my life (Catherine), finished university and discovered how much fun civil construction can be (just like farming really) I was hooked. I always thought I would end up back on the farm, it just never happened. When discussing it one day with dad he said, if he had all the opportunities, I had had in his early life he probably would have done the same thing.
I did however, get to travel quite a bit for work to look at construction jobs, tender for works and later once I had my own business oversee works that we were constructing in Victoria, Eastern South Australia and Southern New South Wales. Over the years dad travelled with me many many times and was great company, helpful when we needed to measure or check something out and always interested in whatever I was doing. What more could I ask for? Many of these trips were also done with Claire and Luke and the latter years with Jack as well.
In June 2009 Dad and I were fortunate enough to travel to Papua New Guinea and meet up with Luke and his year 8 class on an excursion to Awala a small village in Oro Provence on the North of the main island of PNG. This was a magical experience and we were looked after by the villagers better than any five star resort, though I must say having three people stand beside the toilet (hole in the ground) after escorting you there so you don't get lost at night whilst you did your business was a bit challenging. The people of Awala loved Dad, he was probably one of the oldest people he they had ever seen (76 at the time) and at no point did he ever have to carry his bag and there was always someone holding his arm to make sure he didn't trip or fall. On one long walk we did, the villagers had found an old wheel chair and they wheeled it behind us as we walked, I think it had been a long time since Dad had walked that fast but there was no way he wanted to have the indignity of being pushed in a wheel chair.
As I sat this morning at Brown Hill lookout one of Dad's favourite spots and where he used to supervise Clean Up Australia day each year watching the sun rise over Ballarat, I realised all I have left to say is Dad that you are the best father a son could ever want, I will miss you, I will always love you and I will never stop trying to be the sort of person you were.