March 2019
At the request of the Brown Hill Progress Association (BHPA), the due date for feedback on the Brown Hill Local has been extended to Monday 1 April 2019.
Please take time to read the 7-page response prepared by the BHPA (PDF). We have also made it available as a webpage: BHPA response to the Local Area Plan.
If some or all of the BHPA's response is important to you, please cut and paste it into your own response and submit it through the survey on this page: mysay.ballarat.vic.gov.au/brown-hill-lap by Monday 1 April 2019.
It is important that the Brown Hill community take this opportunity to have a say and let the City of Ballarat know what we want for our fabulous suburb. Please encourage your neighbours, friends and family to have a say.
February 2019
Do you want to help shape the future of Brown Hill?
The City of Ballarat has partnered with the Brown Hill community to develop a draft paper to inform the Brown Hill Local Area Plan. It was released on Friday 1 February 2019.
Brown Hill and its unique features are important to the people of Ballarat. That's why the City of Ballarat wants to hear from you about your thoughts on this project to ensure they have got it right.
The City of Ballarat has released three potential scenarios for the future of Brown Hill based on community consultation.
This draft paper sets out options to manage and guide future land use, development and improvements in Brown Hill.
The community's key identified priorities are to:
Keep the country atmosphere and bushland backdrop
Highlight the natural assets of Brown Hill for recreation and tourism
Improve natural assets from an environmental perspective
Ensure development is appropriate to Brown Hill
Make the streetscapes of Brown Hill unforgettable and highly functional
Deliver more open and public spaces to more residents.
The draft paper outlines three scenarios:
A status quo where current development patterns are maintained but no land is rezoned
A growth scenario where current development patterns are maintained, in addition to some land in emerging areas of Brown Hill being rezoned for more intensive residential use
A balanced approach where some controls may be strengthened or added to, to create a better development outcome.
Now it's your chance to tell the City of Ballarat what you think. Have they got this draft paper right?
To have your say, complete a short survey at mysay.ballarat.vic.gov.au/brown-hill-lap.
Community members can also contribute to the survey in person at The Phoenix, 25 Armstrong Street South or by mail addressed to City of Ballarat Strategic Planning – Brown Hill Local Area Plan, PO Box 655 Ballarat, Victoria, Australia 3350. Hard copies of the survey will be available at the Brown Hill Kindergarten and Caledonian Primary School.
Submissions close on Monday 1 April, 2019.
For more information, please contact Lisa Kendal, Manager of Strategic Planning, City of Ballarat, on 0439 313 206.
August 2018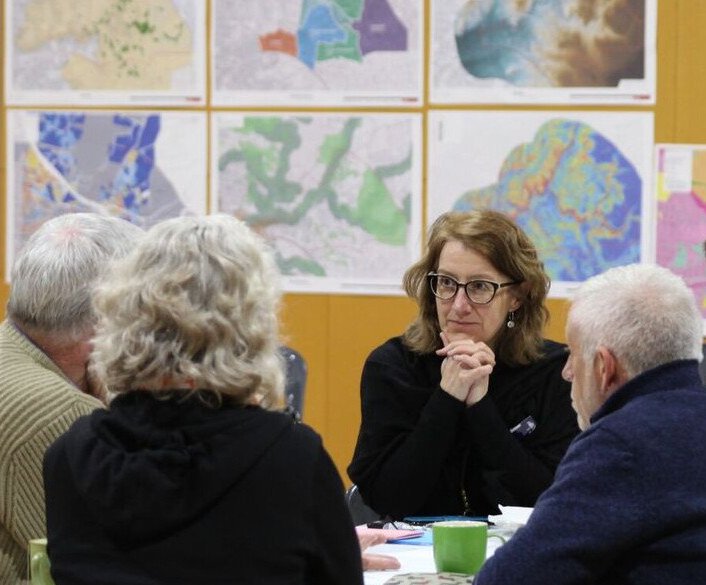 On Tuesday 31 July the second of the Brown Hill Local Area Plan Community Working Group sessions was held at Brown Hill's Caledonian Primary School. This session began with a summary of the key issues and opportunities that were identified within the previous working group session and survey. Results of the online survey tell us that some of the things Brown Hill residents love about Brown Hill include:
Semi-rural context/big backyards/large blocks
Bushland backdrop/bush and nature reserves/trees/birdlife/wildlife
Walking tracks/parks and open spaces
Community atmosphere/Brown Hill Community Newsletter/Brown Hill Community Festival/strong sense of community/country atmosphere
Proximity to Melbourne and freeway/village within a city
Sporting and community facilities (Russell Square/playgrounds/pool/ kindergarten)
Results from the first Working Group meeting included a list of key issues and concerns about Brown Hill. They were:
Density and over-development
Loss of trees through development
Lack of services and shops (no vibrant commercial centre, kindergarten at capacity)
Lack of public transport
Not enough pedestrian and cycling infrastructure (e.g., footpaths, bike paths)
Emergency and bush fire risk (no community emergency plan)
Road safety, traffic and parking including increase in traffic, safety at intersections, particularly on Water Street and on Daylesford-Ballarat Road .
Here is a summary of the consultation responses (PDF, 225KB).
During the second Working Group meeting, a presentation was given on potential public realm improvements which were derived from the consultation feedback. These included to:
Strengthen and enhance Yarrowee Corridor (and recreation facilities)
Create an integrated transportation network
Strengthen the Humffray Street Centre
Identify and emphasise heritage features
The session then moved on to a presentation and discussion on planning scheme zoning and potential tools and mechanisms that could be implemented to address key issues raised in the consultation and ensure that what the community values about Brown Hill is retained. The key aspects were:
More rigorous site design guidelines
A strengthened centre on Humffray Street North
More open space
Retention of more vegetation
Landowners working together to share infrastructure, more interconnected development and an integrated and connected network of roads
The group were then asked to rank which of these aspects they valued the most and why.
The next stage in the process will be the release of a 'Future Scenarios Options Paper' for community feedback. The 'Paper' will include the following:
A summary of the findings of the initial round of community engagement
A summary of background reports on natural and cultural heritage, traffic, economics and infrastructure
A discussion on key issues and opportunities for Brown Hill and
Three future growth options including an evaluation for each
The Brown Hill community will be invited (through the newsletter and community Facebook pages) to provide feedback. You can subscribe to the newsletter and receive email updates or email 'subscribe' to newsletter@brownhill.vic.au.
For more information, please contact Lisa Kendal, Manager of Strategic Planning, City of Ballarat, on 0439 313 206.
Brown Hill Maps
As part of the Brown Hill Local Area Plan project, several maps of Brown Hill have been created: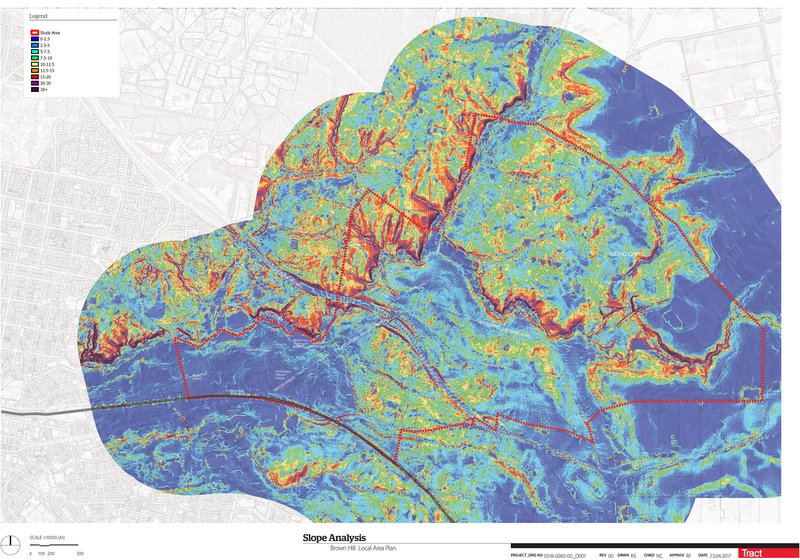 Brown Hill Elevation (PDF 1.6MB)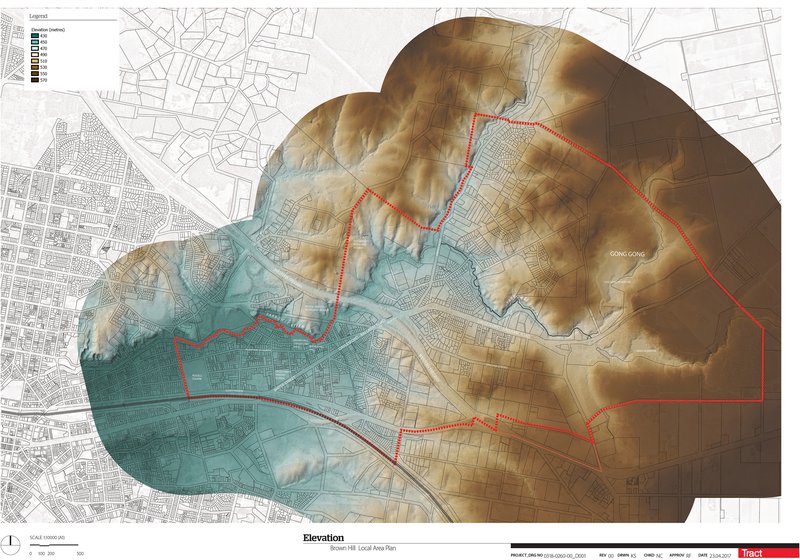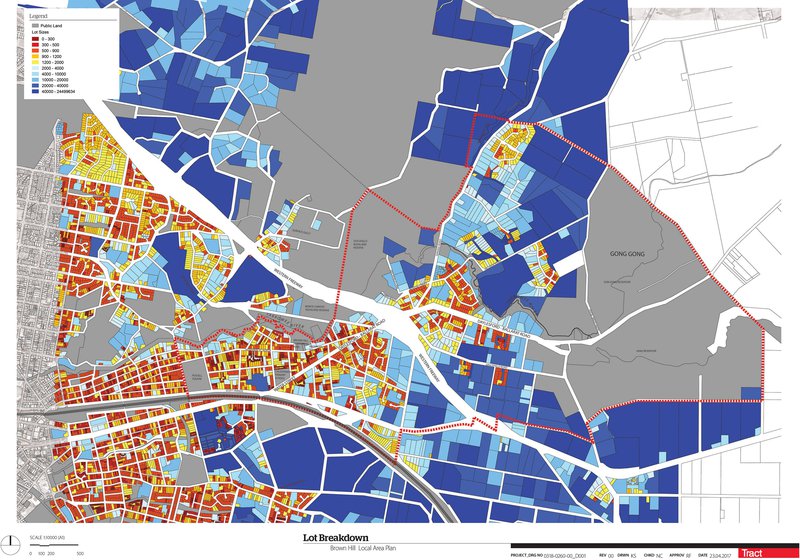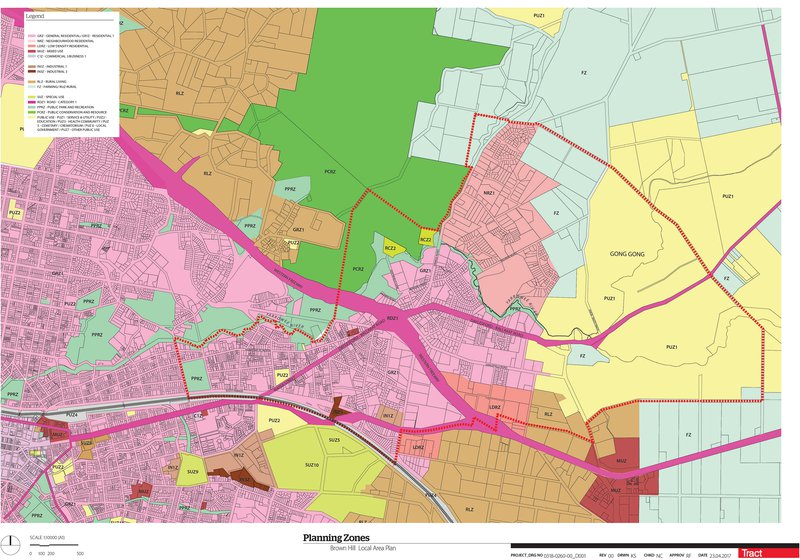 June 2018
The Brown Hill Local Area Plan follows on from the community-led City of Ballarat Engaging Communities Program.
An online survey collecting thoughts about Brown Hill was completed by 41 people between mid-April and early June. Results will be collated by the consultant team and integrated into the framework plan.
On Tuesday 29 May, the first of the Brown Hill Local Area Plan Community Working Group sessions was held at Caledonian Primary School. A group of 30 people, mostly residents and some business owners, gathered for a couple of hours to discuss the things that are important to them about Brown Hill. The Council-run session gave participants the opportunity to identify the issues that concern them and their aspirations for Brown Hill's future.
Rebecca Finn from Tract, Council's consultant, gave a presentation about their initial findings (2.1 MB) but reiterated that this session was really focused around listening to the community. Max Hardy, a facilitator and part of the consultant team, led the group through an exercise where participants imagined they were showing friends through Brown Hill in the year 2028. The detailed itineraries highlighted the imagined new and improved parts of the community, in addition to emphasising those parts of Brown Hill that should not change.
The Local Area Plan and Infrastructure Assessment will be a blueprint for the future of Brown Hill – an integrated and holistic land-use and framework-plan to guide local development and infrastructure provision.
The Brown Hill community had the opportunity to join the Working Group earlier this year. The second Community Working Group session will be held at the end of July. There will also be opportunity for broader community input as the project progresses in the second half of this year.
Rebecca Finn, Associate Urban Designer, Tract Consultants
Questions raised in the presentation include:
1.Water Street is so wide. What are the opportunities?
2. Are footpaths important? Should the landscape reflect the natural landscape?
3. Is the vegetation along the ridge line important to retain?
4. Is infill development at the rear of lots good? How could it be better?
5. Is this the centre of Brown Hill? What would make it feel more like a neighbourhood centre?
6. Are parks and open space important to you? How would you improve them?
7. What character elements are key to maintaining the charm of Brown Hill?
April 2018
Brown Hill Local Area Plan and Infrastructure Assessment
Following on from the work achieved through the community-led 'Engaging Communities Program', the City of Ballarat will continue to partner with local residents to develop the 'Brown Hill Local Area Plan and Infrastructure Assessment' project (the Plan).
The Plan will provide an integrated framework for the provision of infrastructure, open spaces and other key community assets to help better protect valued community and environmental features and manage the rapid growth occurring in the area.
Key Objectives
The key objectives of the project are to:
Project boundaries
The geographic scope of the project is defined by the suburb boundaries of Brown Hill and Gong Gong. Gong Gong has been included due to the strong environmental linkages between the two suburbs and because of the several significant land uses which straddle the shared boundary between them. See image below.

Get involved
The community is encouraged to share their thoughts about Brown Hill and complete a short survey. The survey closes at 5.00 pm on Monday 4 June 2018.
Develop a comprehensive, integrated and realistic Local Area Plan that builds on identified community values, landscape character and a detailed understanding of issues and opportunities.
Develop a strategic vision based on achieving liveability, resilience and knowledge of local issues.
Develop and test future growth option scenarios with consideration of appropriate character, form, density, infrastructure needs and staging of development.
Develop a framework, infrastructure and prioritised implementation plan for a preferred growth option scenario.
Recommend regulatory and non-regulatory measures to protect values where required.
Document local planning scheme policy and controls to implement the vision and plan, as required.
Surveys are available online at mySay Ballarat and hard copies can be obtained from City of Ballarat Customer Service Centre, located at The Phoenix building, 25 Armstrong Street South, Ballarat.
Expression of Interest
Brown Hill Local Area Plan Community Working Group
Council is also seeking expressions of interest in being involved with a community working group for the Local Area Plan. The purpose of the community working group will be to provide in-depth feedback at two key stages in the project. Council is looking to establish a group that represents a broad cross-section of the community including residents, developers, business owners and members of local community groups.
The community working group will consist of a maximum of 30 people and members of the group will be required to attend two two-hour focus group sessions on Tuesday 29 May 2018 and Tuesday 31 July between 6.00 and 8.00 pm at a location in Brown Hill.
If you would like to be considered for selection, or wish to nominate someone else to be part of the community working group, please register online at https://mysay.ballarat.vic.gov.au/ or call 5320 5689.
Expressions of interest close at 5.00 pm on Wednesday 9 May 2018.

Stephanie Durant, City of Ballarat's Strategic Planning TeamBrown Hill Local Area Plan Response