In the Brown Hill Community Newsletter, we have profiled some of the many interesting people who call Brown Hill home. Here are a few of their stories.
Ivy's first day at school
On 5 February 2018, the Preps started at Caledonian Primary School. Ivy said that she enjoyed her first day at Caledonian and she especially enjoyed meeting her friends.
What is your favourite thing so far?
Just outside my classroom there is a place called 'Developmental Play'. In Developmental Play, there are lots of areas to play in, like the Crafting Area, Lego Area, School Area, and many more, but my favourite area is the Sensory Area where I can touch and play with what's on the table.
What do you think school will be like?
I really liked my first day of school because it was really fun. I think that school will be really fun in the future as well. I think that I will really like reading and writing. My buddy showed me around the school and I think she is very nice.
What did you do at play time?
At recess and lunch plays, my older brother Hugh likes to check up on me. I have made many friends at school. We like to play in the playground and my buddy likes to play with me. My favourite thing to do in the playground is to go on the bumpy slide.
By Alana & Connor, Grade Six, Caledonian Primary School
Mabel's first day at school
"Hello I'm Mabel and we have a pup called Chloe. She is a 12-week-oĺd French Poodle."
That was the beginning of my quick chat with my five-year-old neighbour who has just started in Prep at St. Francis Xavier Primary School in Ballarat East (Villa Maria).
"I sit next to my new best friend Emily. The most special thing on my first day of school was having my school photo taken. We have many animals at my school; an outside duck who is "the postman", chickens and three goats." A first for a Ballarat school, I'm sure!

Mabel said, "We play footy at recess times up on the top oval or play in the sandpatch."
When asked what was in her lunch box, Mabel reported, "A carrot muffin and a cheese and bacon roll. Also, my favourite fruits which are watermelon and bananas (but don't eat too many or you will be sick)."
Mabel told me, "We do fun stuff with Ms Conroy, my nice teacher. Art and making a book to take home and read. Can I read to you Brian?"
So the journey begins...
Brian Green, Brown Hill Community Newsletter Committee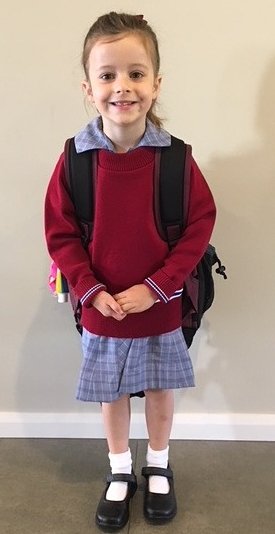 Image: Mabel at St. Francis Xavier Primary School. Supplied.