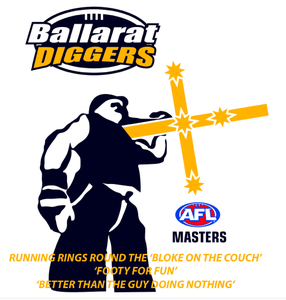 Ballarat Masters Football Club
The Ballarat Masters Football Club (BMFC) competes in the AFL Masters, Victorian Country competition, and has done so for over 25 years! We are a footy for fun focused club and welcome players over 35 years of age to join us in our competition where we play 11 games once a fortnight on Sundays in our family friendly club. Our Club Values: Leadership, Team work, Loyalty, Commitment and Encouragement.
Contact

President, Michelle Booth

Email

Phone

Website

Facebook

Address

Based at the Russell Square Sports Community Centre

Other information

Coaches: Dale Mercer, : 0457 547 846; Trevor Booth: 0437 452 137
Training Wednesdays 6.00 - 7.00 pm
11 games once a fortnight, on Sundays
If this listing is incorrect or incomplete, please contact us. Please note that organisations are solely responsible for ensuring their details are up-to-date.