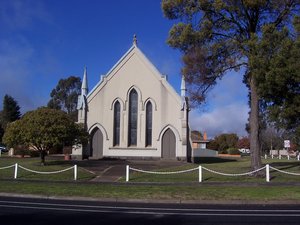 Brown Hill Uniting Church
As the congregation of the Uniting Church in Ballarat East, we are here to grow through the worship of God, to support and strengthen each other in faith, to work with other congregations in the Ballarat region, to enhance mission work in the areas of Chaplaincy and UnitingCare, to seek and welcome newcomers, and to respond to our community's needs through witness and service. Easter Services 2021: *1 April: Maundy Thursday. Combined at Skipton St Uniting Church, corner Skipton St./Yarrowee Parade at 7.00 pm. * 2 April: Good Friday. Combined at Neil St. Uniting Church, corner Neil St./Macarthur St. Soldiers Hill at 9.00 am. *4 April 4 Easter Sunday. Combined at Neil St. Uniting Church at 10.00 am. **No services at Brown Hill on these dates.** **No need to book in for Easter services.**
Phone

Website

Address

16 Thompson Street, Brown Hill (corner of Humffray Street North)

Other information

10.00 am Sundays, Worship.
On the fifth Sunday of the month, visit to Central Uniting Church Ballarat.
6.45 pm Mondays, Ecumenical Choir.
10.00 am Tuesdays, Know Your Bible.
3.00 pm Tuesdays, Kids' Club (4 weeks per term).
1.30 pm Wednesdays, mid-week Communion, followed by afternoon tea.
If this listing is incorrect or incomplete, please contact us. Please note that organisations are solely responsible for ensuring their details are up-to-date.