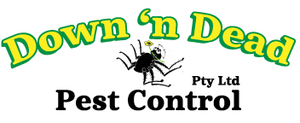 Down and Dead Pest Control
Down and Dead Pest Control specialises in commercial pest control for clients in Melbourne, Geelong, Ballarat and Victoria. We also perform pest control to domestic houses in the Ballarat area. Our qualified team of pest control professionals have in-depth knowledge of pests, their habits and methods of treatment and extermination. Down and Dead help protect the value of your business by offering fast and effective pest control services.
Contact

Dianne

Email

Phone

Website

Address

Brown Hill

Other information

Down and Dead have been the commercial pest control experts in Geelong, Melbourne and Ballarat for more than 15 years. We work in the specialised areas of food industry pest control, hospitality industry pest control and medical facilities pest control, providing quality, efficient and safe commercial services. Due to the nature of these commercial businesses it is essential that we have your pests under control, our technicians have training in Food Safe Inspections, are HACCP Compliant and are fully licensed under the Victorian Health Department.
If this listing is incorrect or incomplete, please contact us. Please note that organisations are solely responsible for ensuring their details are up-to-date.
Business owners: Advertising is now available in the Brown Hill Newsletter.