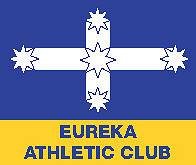 Eureka Athletic Club
Although the Pandemic has hit sport hard, Eureka Athletic Club included, it has not stopped runners and walkers getting in a fast paced event each week. Eureka Athletic Club has been conducting "Virtual Runs" each week. What the club is doing is giving people the option of 4 distances each week. The timeframe is from Friday to midday on Sunday and they can run wherever they like. The results are then compiled and published on the Club's Facebook page. Eureka would welcome anyone who would like to have a go. We have ages from 8 – 80 taking part with even a couple of Club members who are marooned in Ireland logging their virtual runs. Details can be found on Eureka's facebook page.
Contact

Rod Griffin, Secretary

Email

Phone

Website

Facebook

Other information

The mission of Eureka Athletic Club is to cater for families and individuals by promoting participation and the enjoyment of athletics. The club actively supports and encourages athletes at all levels and ages to achieve their individual goals. Eureka athletic club will work to assist in the promotion of athletics in Ballarat and welcomes the interest of parents and friends to help the club in its athletic and social pursuits
If this listing is incorrect or incomplete, please contact us. Please note that organisations are solely responsible for ensuring their details are up-to-date.