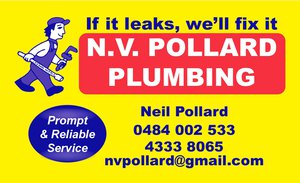 Neil Pollard Plumbing
If It Leaks, We'll Fix It. Leaking pipes, Cold & Hot water Systems, Roof plumbing, Guttering, Gas fitting, Sewage, Septic Systems, Stormwater & Renovations. N.V. Pollard Plumbing is family owned and operated established 1985. With over 32 years of experience in residential, commercial and emergency plumbing throughout Ballarat , Melbourne and Victoria. With the goal of establishing long-term relationships with our clients based on trust honesty and reliability. You can rely on us for all your plumbing needs. No job too big or small.
Contact

Neil Pollard

Email

Phone

Address

Brown Hill, Ballarat

Other information

A proud sponsor of the Brown Hill Community Newsletter: https://www.brownhill.vic.au/newsletter/our-supporters/

* All Plumbing & Maintenance
* Leaking& Burst Pipes
* Hot Water Service Replacement
* Blocked Drains
* Backflow Testing
* Drain Camera
* Drain Laying
* Emergency Water Leaks.
* Kitchen & Bathroom Renovations.
* Leaking Taps.
* Gutters & Spouting.
* Cold & Hot WaterSystems.
* Toilet Repair & Replacement.
* Sewerage.
* Roofing & Repairs
* Drain Cleaning
* Stormwater .
* Water Damage.
* Gas Fitting.
* Septic Tank Installation.

WE HAVE THE SOLUTION FOR ANY PLUMBING PROBLEM
* Emergency Plumbing.
* Licensed Plumbers.
* Hot & Cold Water.
* Hot Water System Replace
* Blocked Drains.
* Septic Tanks
* 24 Hour Emergency Service
* Toilet Repairs
* Taps Leaking
* Water Pressure Problems
* Water Damage.
* Emergency Water Leaks.
* Stormwater.
* Sewerage.

NO JOB TOO BIG OR TOO SMALL
Pollard Plumbing, stands for Quality Service ,Quality Materials & Reliability. With over 30 years of experience in residential and commercial plumbing we are able to provide superior solutions. on time and on budget 24/7 with knowledge and know how. This allows the customer to be assured they have made the right choice when booking Pollard Plumbing for all their plumbing needs.
Contact Neil today for more information.
DO IT ONCE, DO IT RIGHT, ON TIME AND ON BUDGET
If this listing is incorrect or incomplete, please contact us. Please note that organisations are solely responsible for ensuring their details are up-to-date.
Business owners: Advertising is now available in the Brown Hill Newsletter.