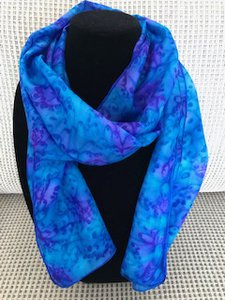 Brown Hill Market Stall: Silks By Lois
Lois hand paints silk scarves, lots of various colours and designs. Each scarf is totally individual, you never have two the same, they are in pastel colours, bright colours, plain designs and patterned. Made locally in Ballarat.
Contact

Lois Rowan

Email

Phone

Facebook

Address

Ballarat

Other information

It takes about six to seven hours to complete a scarf. Silk is a very elegant fabric and may be used for a casual look or to dress up an outfit. Ideal present for birthdays or just as a lovely gift for someone.
Prices are $35 or $40 depending on style (most are $35). Plus postage. Payments done via PayPal.
If you would like to purchase you can give me an idea of colours and I can send photos of some in that range for you to look at. Contactless collection available.
If this listing is incorrect or incomplete, please contact us. Please note that organisations are solely responsible for ensuring their details are up-to-date.
Business owners: Advertising is now available in the Brown Hill Newsletter.